Once I have binding on Grandma's Army Blanket and the rest of Trip Around the World quilted & bound I have three more in progress.
1) Shena's Friendship Scrap (cut, needs assembling)
2) My stashbuster with the rest of the Friendship Scrap Block material.  (cut, needs assembling)
3) Nathan & Natalie's Wedding Quilt. (fabric bought)
The block for theirs is this one: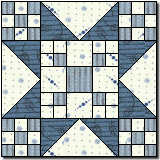 It's called Bridal Path.  I like quilt square names that match the occasion. 
I'm going to assemble it like this, although I don't love the way the border is illustrated, I'll likely do a plainer border than this: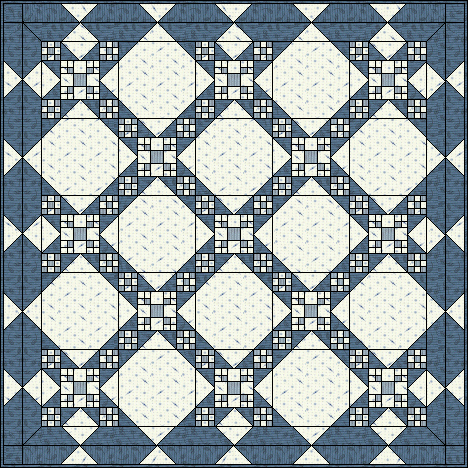 I like the way this one looks: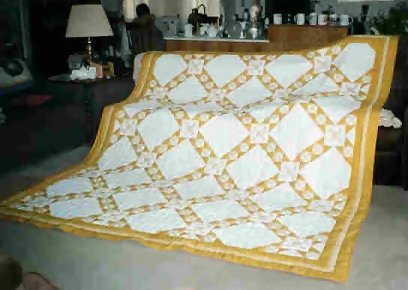 A woman named Iris made it.
I'm going to take a free-motion quilting class so that I can make the middles of those big blocks interesting looking.
I'd also like to make one of these: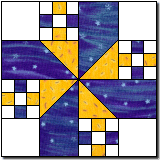 It's called Lady of the Lake.  There's a mock-up of a possible assembly, but it would only come out to 5' wide, and I'd like something a little bigger.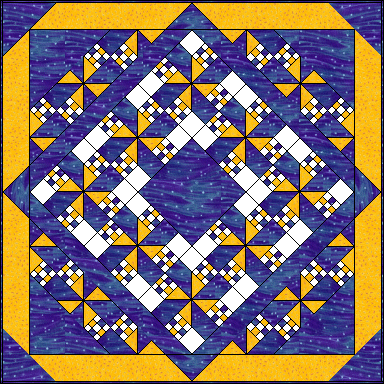 But I could do 3 rows of stars and then finish it as shown…ish. This might be a better place to practice my free-motion before I try it out on Nathan & Nat's wedding quilt.
All of the illustrations and Iris' finished object courtesy of Quilter's Cache.  I love that place.